Earlier this month, Jemma took to the (virtual) stage at the MRG's 2020 Annual Conference along with Amy Holder from Channel 4, to talk about whether, in a world of SVODs, AVODs, BVODs and, frankly, all of the VODs, there really is still a role for Public Service Broadcasters.
For the past few years we've been hearing about the imminent demise of linear TV and with the rise of SVOD services like Netflix, there's been a sense that…

And then the pandemic hit. We saw that people coming back to scheduled TV in droves. But why? Channel 4 approached us with their own hypotheses as to why the British Public Service Broadcaster is so important, so we set out to speak to the nation to find out what viewers really think!
Here's what we found:
1. PSBs had a huge impact during lockdown
On the surface, it's easy to assume consumers think of SVOD services more favourably than Public Service Broadcasters (PSBs) – they're available on demand, there's a whole library of content available globally, whilst for PSBs they're characterised by their constraints. However we saw that PSBs had the biggest impact during the first lockdown – consumers had a greater appreciation for them, they were quick to respond and excelled at providing relevant shows. They offer entertaining content, a way of passing the time and take viewers minds off everything else that's going on in the world.
Consumers were much more likely to say shows from PSBs defined their lockdown than those from SVOD services – with a variety of shows performing well!
"Bad Education kept me entertained for many days in this horrible time"
"Friday Night Dinner – entertaining, funny and good to pass the time"
"Gogglebox has provided me with humour and a way to forget what's going on in the world"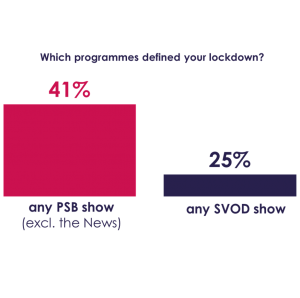 2. PSBs uniquely bring the nation together
We asked viewers what they thought of PSBs and similar themes came up time and time again, they were felt to reflect both the diverse nature of Britain as well as represent different regions, ultimately helping viewers to feel proud to be British.
They get people to experience this feeling of being part of a national public, something that was really missing from people's lives during the first lockdown. They're free, open and accessible to everyone – you can feel confident that your friends, colleagues and family have all seen the same show at the same time. And they help viewers to not only keep up to date with what's going on, but also make sense of the facts, giving a lens of how to deal with the difficult situations we have all faced this year.
"Hearing people chat and crack jokes on The Last Leg or Gogglebox… It's the closest thing you can get to having a beer down the pub with your mates"

Male, 25, Manchester
3.PSBs offer more trustworthy content than other sources
It's been a year of viewers being glued to the news. Understandably, the most important thing when we asked viewers about the news sources they use was that it "doesn't carry fake news" – now more than ever there's an emphasis on getting the true facts in what is very much a post truth world. So it's hardly surprising that people want their news to be trusted and accurate! Ofcom's Covid-19 news and information tracker has shown that there's a disparity in the levels of trust received for TV sources compared to social media sources.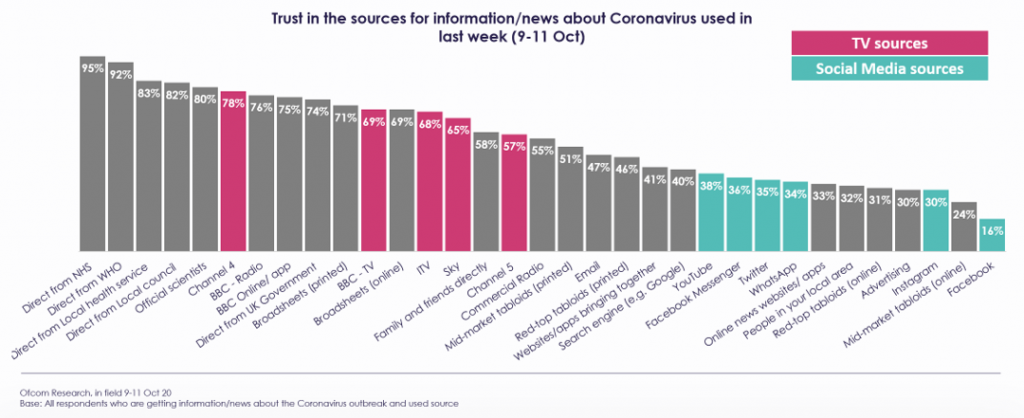 We found that consumers view PSBs as much better than social media – they offer a more balanced point of view, portraying the human stories as well as an expert view and importantly they're not afraid to challenge.
And of course Channel 4 is felt to excel across these areas, praised for its balanced, independent point of view. And Jon Snow's ties. Here's what some of our participants had to say…
"Channel 4 News has been renowned for being an impartial news broadcaster with forthright opinions that scrutinise people in authority by ultimately holding them to account. And the British people typically appreciate it.

Male, 35-44, South-East England

"It's different than most News programmes. They go deeper, get the best reporters in places others don't think of, they cover topics in more depth and ask pertinent questions.

Male, 35-44, North-East England

"Channel 4's newsreaders are relevant, seen genuine and are easy to connect with. They carry out interviews well and ask the questions I want to hear answers to.

Female, 25-34, North-West England
In the media research bubble we're often talking about the impact of services like Netflix, but we shouldn't forget the unique and irreplaceable role played by Public Service Broadcasters.