As researchers, it's a no brainer to us that people respond to things in different ways, and Covid19 is certainly no exception. It's having an unprecedented impact on how we feel, and how we live our lives, whether we've got heightened levels of anxiety about what the future holds, or an optimistic anticipation of life returning to normal when lockdown is lifted.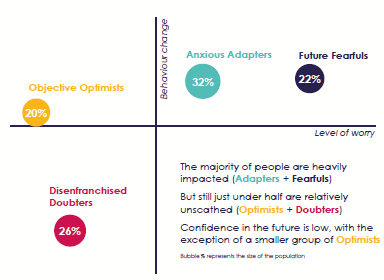 To help brands, we've identified four distinct types of person, defined by their attitudes, behaviour and confidence in the future.*
Knowing where your customers sit on the spectrum and how they think, feel and behave is more important than ever, helping to understand:
How should brands adapt their tone of voice and messaging?
How can brands stand out from the crowd?
What sort of TV and news content do consumers want right now?
The segmentation golden questions and algorithm are available free of charge for you to use on your studies. You can read more here or drop us a line at [email protected] for more information.
*Fieldwork ran from 14th -17th April 2020 with a representative sample of 2002 adults in the UK and US. The research will be re-fielded over coming months to monitor shifts in segment sizes over time.